Somaliland at a glance
Location: Somaliland is an autonomous region situated on the eastern horn of Africa. It extends roughly 400km from west to east along the southern coast of the Gulf of Aden, and is nowhere more than about 150km long from north to south.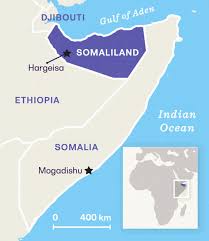 Neighbouring countries: Djibouti to the west, Ethiopia to the southwest, and the autonomous but unrecognised Puntland State of Somalia to the east.
Area: Approxiamately 137,600 km2. It is rather small country by east African standards, comparable in area to Greece, Malawi, or the state of Arkansas.
Climate: Most of the country is low Lying, dry and hoteypecially in summer when coastal temperatures soar to above 40°C.
Population: 4,5 million (2017)
Capital: The largest city is Hargeisa, with the population of around 1,500,000 residents.
Other main towns: Burao, Borama, Berbera, Erigavo
Economy: Predimonantly subsistence agriculture and pastoralism, as well as import and trade between the port of Berbera and neighbouring Ethiopia.
GDP: US$ 600 per capita
Languages: The official language of Somali is almost universally spoken. Arabic and English both have a semi-official status, with the former being a mandatory school subject, while the latter is often spoken to a very high standard by returned exiles.
Religion: 100% islamic
Currency: Somaliland shilling (Ssh). The US dollar can be used for almost all transactions. ( US$ 1= Ssh 6000)
Flag: Three horizontal bands: from top, green, white and red. There is a black stat in the middle of the central white band.